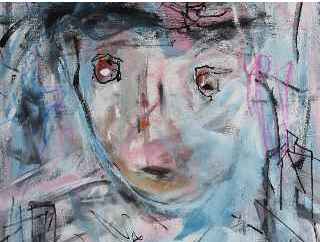 Location: Steve Lyons Gallery, 463 Main Street, Chatham, MA
"Finding Home: Searching for Humanity" is a multi-media exhibition created by artist Steve Lyons that addresses the current international refugee crisis. The show includes original paintings, multi-media visuals (painted photography and prints) and an audio installation booth that brings the refugee crisis front and center to the viewer's visual and aural senses.

The conceit of the show focuses on Lyons' question: When and how did a person looking for a home – as an escape from torture, bombings and death – stop being a matter of humaneness, of honoring what is purported to be Christian ethics, and become politicized?

In exploring that narrative, Lyons takes 'provoking the senses' to the next level, in "Finding Home." His use of original abstract paintings, painted photography and an audio-visual installation of refugee dialogue creates an eruption of emotion, a look into stripped freedom and a means of shifting perspective that one couldn't experience from reading the news. The goal of this dynamic exhibition is to humanize the crisis while simultaneously helping people understand that it may very well be within each of us. In Lyons' view, the show functions on simultaneous levels – participants see interpretations of the refugees while also helping each see themselves as a refugee, from the reality of the situation. Why? Because our feelings about refugees aren't really feelings; they are "thinking" engineered by the media and politicians for the sake of political gain. In actuality, refugees are seeking the very simplest of life's comforts – a home. "Making the audio video abstract was a very necessary choice because that's what has happened -- the refugee crisis has become so abstract (especially for Americans), that most can't get their head around it. Consequently, there really is no other way to present an artful response without marrying the genre of abstract art with the refugee crisis as "we know it." In other words, I was intent on the "concepts" (refugee crisis, homeless, abstract art) being fused in both the visual and audio experience."

It is not lost on Lyons that this theme of "finding home" is not unlike what happened to millions after the economic meltdown of 2008. And just how many Americans were at that time on a journey of "finding home." Yet, where did the empathy go in eight short years? How can one take a refugee's journey and not remember it? By exposing participants to a presentation of the refugee crisis, Lyons hopes to help people shift the paradigm within themselves about the essence of the refugee crisis. Hence, while the refugees live in one universe as political and media appointments and apparitions, they are actual human beings.
---
On Saturday, June 10th at 3:30 PM at the Chatham Community Center, 702 Main Street we are excited to host Molly Gallagher. Molly is a recent American University Graduate who spent time in the Syrian refugee camps in Jordan, the summer and fall of 2016. Molly will talk to her experiences and findings that art is an integral part of of the survival and healing of the refugees, particularly among the youth population.
---
On Saturday, June 10th at 6PM we will host an opening reception at the Gallery celebrating the exhibit.
---